Hope S. Philbrick is a freelance writer and editor based in Atlanta, Georgia. She writes about travel, food, wine and spirits (as in booze, not ghosts) and in the name of research has visited more than 34 countries. In defense of good taste, she's sat at the judges' table at numerous culinary and wine competitions. Her work has appeared in dozens of publications nationwide, including her online magazineGetawaysforGrownups.com. When not writing, she can usually be found on the road or savoring something tasty.
For nearly 20 years, I've called Atlanta—Georgia's state capital, home of CNN, Coca-Cola, Home Depot, Delta, the world's busiest airport, and host of the 1996 Olympics—home. For most of that time, I've covered the city's wine and restaurant scene as a freelance writer. I still haven't managed to visit every possible venue. There are more than 4,300 restaurants in Atlanta plus more bars and wine establishments than I can count with new options opening what-feels-like daily. Trust me, a wine tourist can find a lot to love about Atlanta. My insider tip: Start with these three spots.
Oldie But Goodie
Nestled in the Buckhead neighborhood, Aria has been recently redecorated yet remains an old-school fine-dining restaurant in the best possible sense. Expect white tablecloths, attentive servers, a relaxed-yet-bustling dining room, a mouthwatering menu (with entrée options from foie gras to octopus tempura, duck confit to smoked salmon, and other temptations), and an award-winning wine list.
Curated by wine director and general manager Andrés Loaiza, the wine list is designed to complement Chef Gerry Klaskala's bold dishes. "Overall, I'm looking for wines that pair well with food," says Loaiza. "I try to keep a variety of different styles, an exploration across the board as far as varietals and places of origin and composition." Wines are from top, well-regarded producers as well as smaller high-quality makers and reflect established and emerging trends across a range of price points. Though new wines arrive daily, there are about 270 different options on the wine list each evening.
The cellar houses about 1,500 bottles of red and dessert wines; whites and champagnes are stored in a cooler. The wine cellar is also a secret hideaway for wine lovers: Reserve its sole booth and enjoy surrounded by wine and candlelight. "The wine cellar was built 25 years ago and there's one table available for reservations," says Loaiza. "It's completely private—I can't tell you how many proposals I've seen. That table is very unique. People fly into town just for that table! It can accommodate up to four but you'd be shoulder to shoulder; typically it's couples. We never actively offer it; you have to know about it."
In addition to wines by the glass and bottle, Aria pours wine flights and hosts tasting events and wine dinners. Loaiza adds, "We plan to do more wine events in the future than we've done in the past."
Newest Hotspot
A mixed-use community located inside a fully-renovated historic Sears, Roebuck & Company building, Ponce City Market is adjacent to Atlanta's popular BeltLine trails and is across from Historic Fourth Ward Park. It's a collection of restaurants, shops, residential lofts and tech offices.
Wine tourists may want to head first to City Winery Atlanta. City Winery was created by Michael Dorf, founder of New York's renowned music venue the Knitting Factory, to combine his passions for wine and music. He opened the first City Winery concept in New York City in 2008, and has since opened locations in Chicago, Napa, Nashville, and now Atlanta.
City Winery Atlanta is a concert venue, full-service restaurant and bar, event space, winemaking facility and barrel room. "It's a fully-functioning winery," says beverage director Mani Gonzalez. "We process wines from grapes to glass." House-made wines are already sold on tap for on-site enjoyment (at present there are six varietals), but future plans include bottling for retail sales. "Grapes for the most part come from the Pacific Northwest," she says. "We get a lot from northern California and Oregon's Willamette Valley. We will be getting some grapes from Dahlonega, Georgia." Grapes have also been sourced from Washington, New York, and Argentina.
In addition to the City Winery selections, the restaurant pours more than 400 wines. "We actually have more than 3,000 bottles," says Gonzalez. Wine flights are available as a series of three whites, three reds or any custom trio. In addition, wine learning opportunities are offered, such as a Wine 101 class, Wine Boot Camp, wine dinners, tasting events, and more.
While at Ponce City Market, also check out Biltong Bar's great selection of South African wines, The Mercury's to-go bar, 18.21 Bitters' artisan cocktail mixers, The Tap's craft beer selection, and anyplace else that piques your interest. The Central Food Hall is a who's who of Atlanta's top restaurateurs.
Off The Beaten Path
Justin Amick, one of Atlanta's top sommeliers, opened The Painted Pin, an upscale boutique adults-oriented bowling alley on Buckhead's industrial Miami Circle. It's fun, unexpected, and definitely has a great wine selection.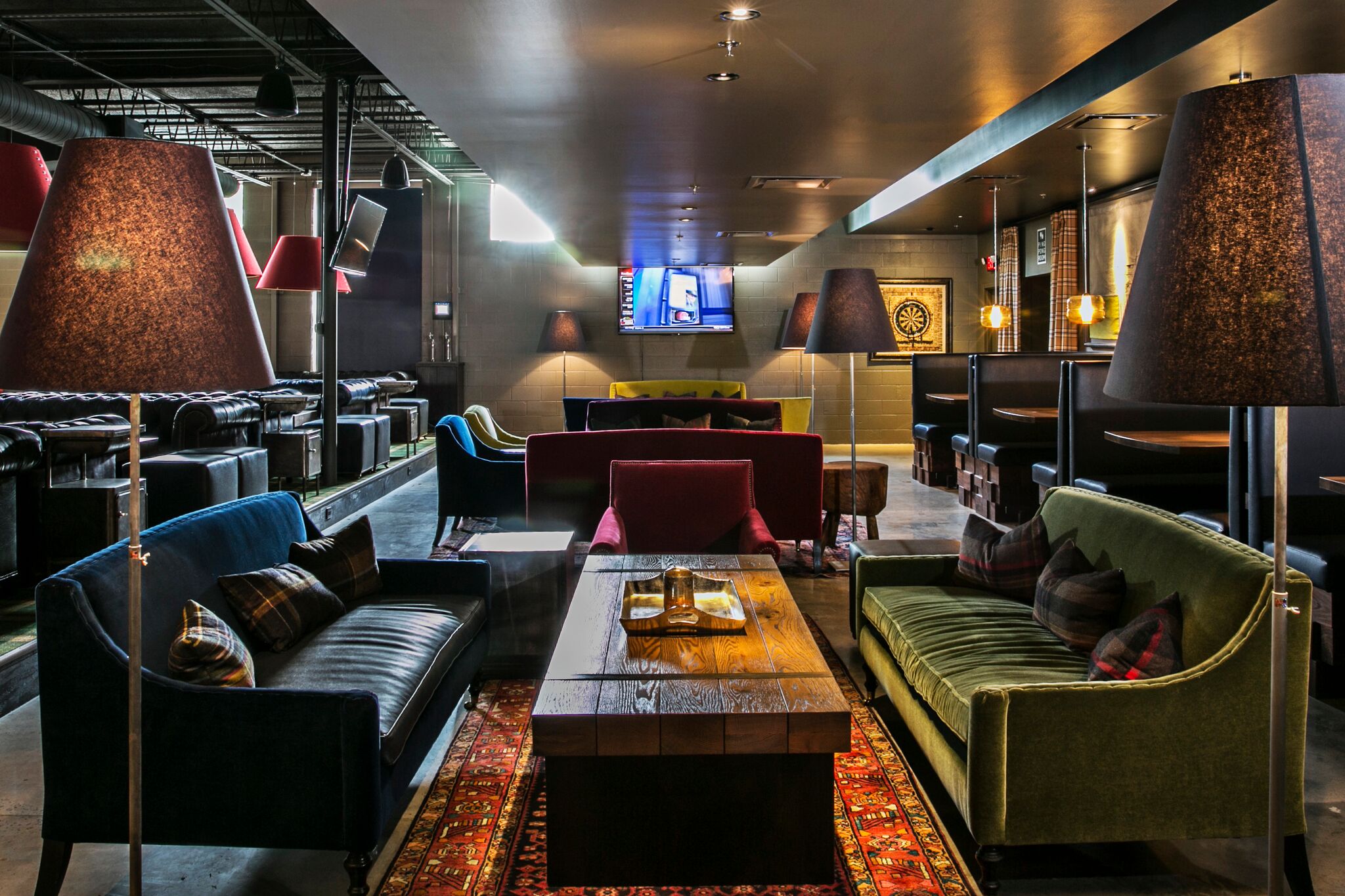 Amick is an Advanced Sommelier and has been named one of the new wave of vino pros by CNN, is a featured wine expert on HLN, has been a Food Network judge, hosts sell-out classes for the Atlanta Food and Wine Festival every year, and is the proud recipient of the prestigious Rudd Scholarship from The Court of Master Sommeliers. He has been named "Best Sommelier" by Atlanta Magazine and received the Critic's Pick for "Best Wine List" by Atlanta's Creative Loafing two years in a row.
So why did he open a bowling alley? "I've always liked bowling," he says. "I like fun, friendly competition. This combines my beverage and operations background with my love of games."
The Painted Pin is a bowling alley unlike any other. "We have well-rounded, high-quality beverage offerings with depth and breadth," he says. "Our beverage offerings are what you'd expect of a fine dining restaurant; we're bringing that level of attention to detail to a different arena of entertainment."
The wine list offers classic grape varietals from classic producers and regions around the world as well as artisanal wines. "I do focus more on smaller production boutique and cult producers," says Amick. "What's different about buying wines for The Painted Pin versus a restaurant is that at a restaurant wine is meant to pair with a specific type of cuisine. People come to restaurants to eat first and drink second. The primary goal here is to come and have fun, there's not a guarantee that every person will order food. So I focus on making sure that the wines are enjoyable on their own merit. These wines have an abundance of fruit and acidity and are super high-quality; they are refreshing and well balanced. Food will enhance the experience—and we serve high-quality food—but these wines can stand on their own."
Every wine is available by the glass and bottle, and there are typically about 20 different labels available plus some off-menu options for those who know to ask. "We have such a well-rounded mix of sales that I have the luxury of offering wines at an even better price than restaurants," says Amick. "The quality of our overall beverage program is unique."